12.05.2021 / Lais Oliveira Leite
Cultural and heritage institutions have recognized that in order to maintain social presence and broaden access to some of their most treasured resources, there is a core need to digitize their collections and offer it (internally and externally) as rich digital content.
The benefits of digitizing collections and managing archives virtually go beyond accessibility. The institution which is planning to start digitizing its collection and management system (or to change/migrate it) should begin with a very clear idea of how digitization and digitalization will further the organization's goals.
Digitizing means transforming a physical object into a digital one (stored in a computer hardware or "in the cloud"). Digitalizing means transforming work processes with the support of information systems. Virtual archives (audio, images, videos etc.), when managed through an appropriate digital collection management platform, enhance varied institutional processes, such as the ones presented in the picture below.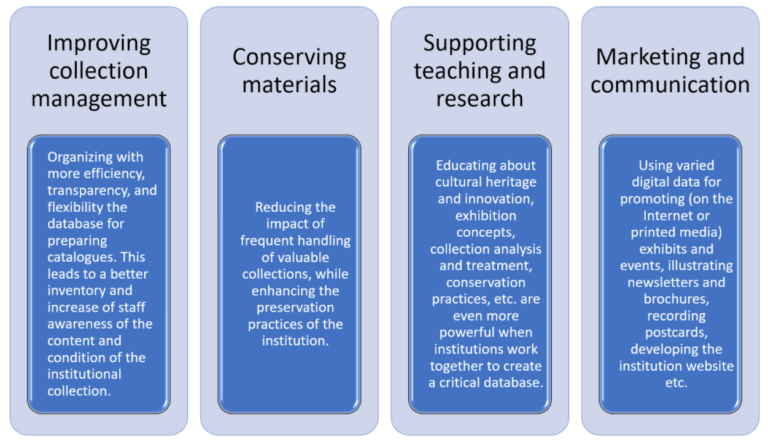 When planning the digitization and digitalization of archives, it is fundamental to know who will use the data. For that, staff members, volunteers and the public audience who will use the digital archive can be interviewed about immediate and future uses. Internally, digital data has many uses across an organization, including detailed conservation and its analysis. It may link to institutional management systems in order to illustrate objects and collection records for loans, insurance and other logistics. Complementarily, digital data can be used for external content sharing, such as publishing research, illustrating newsletters and brochures, recording postcards, institution website etc.
Digitization and digitalization projects should be viewed as a long-term investment. Organization leaders must account for the time and resources (staff training, costs etc.) necessary for the digitizing of materials and for the development of appropriate collection management in virtual platforms.It is important to consider how the ongoing workload of staff members and the institution resources will be affected.
Although digitization is a means of preserving collections, the nature of digital information requires attention. The rapid pace of technological change means that gadgets and programs required to read the digital data can become obsolete. That is why many institutions need to cover the costs of migrating digital data from existing storage devices to new ones. Migrating digital data to Collecte is as easy as it can get.
Finally, digital assets have preservation and storage needs. While making multiple backups is part of addressing the issue, it does not stop there. If plans are not made to properly preserve and manage the digital collection, access to it may be compromised for various reasons, including loss of metadata or information during migration of archives, inadvertent edits or deletions of files, failure to provide access in a timely manner etc. Data storage and security with Collecte is guaranteed.
In sum, structuring digital collection projects correctly are critical for cultural organization to fulfill the demands of using, learning, and sharing cultural heritage, while meeting the organization's mission.
Whether you need to set up a new collections management system or migrate digital content to a new management platform, we can lead you through the way with Collecte.